The week ended July 24th as a bit of a strange one for the markets. With situations in Greece and China seemingly behind us, one would have expected markets to be a lot firmer. Instead, we saw markets across the board seeing red.
The All-Share Index closed the week lower, down 2.59%. The Basic Materials sector saw a large decline, as you will see by the worst performing shares for the week in RFS and SEHs respectively. The Gold price saw a large selloff as well, as all Resources continue to struggle.
South African economic outlook:
There won't be much surprise then that the South African benchmark FTSE/JSE Top40 also finished the week lower, down 2.54%. It's year-to-date return is at 4.29%, proving that it's been a tough year for investors. Among the Top40, Kumba Iron Ore Ltd seem to be going from bad to worse as Iron Ore's demise puts even more pressure on the company. This past week saw Kumba lose a massive 19.37%. The biggest gainer was Vodacom, rising 4.12%, however only 8 companies of the Top40 managed to see green in the past week.
Emperor Asset Management didn't manage to escape unscathed from the markets struggles either, as the Robert Falcon Scott Strategy (RFS) and Sir Edmund Hillary Strategy (SEHs) both had difficult weeks. RFS was down 4.41%, while SEHs was down 3.25%. Year-to-date, returns are at 4.01% and 2.01% respectively.
Below is a summary of index returns as well as the best and worst performing shares for RFS & SEH: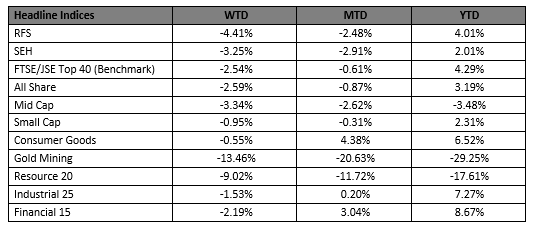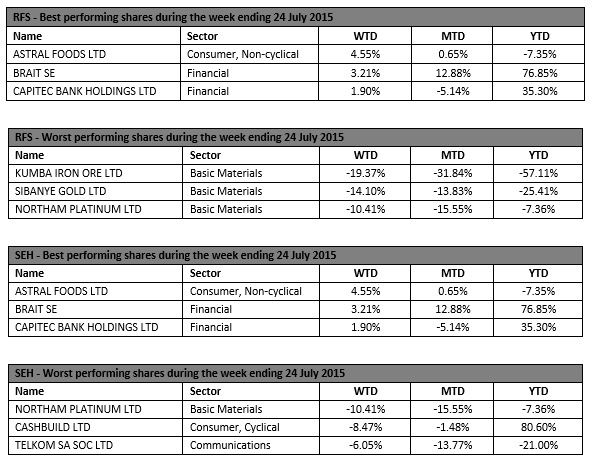 This week's releases:
British American Tobacco June 2015, Interim Results.
New Europe Property Investments June 2015, Interim Results.
In international market news:
In a reversal of what we saw in the previous week, all the major economic regions saw a selloff, with returns ranging from -0.52% to -2.88%.
These are represented by the different regions as follows:
Americas (S&P 500: -2.21%, DJIA: -2.86%, Nasdaq: -2.33%)
Europe (FTSE 100: -2.88%, CAC 40: -1.31%, DAX: -2.79%)
Asia (Nikkei 225: -0.52%, Hang Seng: -1.13%)
In the news:
While there wasn't much significant news in terms of world markets, there was a big announcement closer to home. The South African Reserve Bank (SARB) jumped the queue in comparison to other Reserve Banks such as the US Federal Reserve, raising interest rates by 25 basis points. With slow growth and a weaker rand persisting, the Monetary Policy Committee had little choice but to raise interest rates.
This has seen the Repo Rate increase to 6.00%, while the rate banks charge to its customers rises to 9.50%.