Resources once again under performed, which heavily impacted the market. The Resource 20 index was down 6.22% for the week. Major decliners included Impala (-10.14%), Amplats (-9.96%), Sasol (-8.12%) and Naspers (-7.13%). Therefore not much good news as only 4 constituents of the FTSE/JSE Top 40 index closed positively.
International rating agencies Standard & Poor's and Fitch kept South Africa's credit rating unchanged, despite concerns about economic growth. Although the South African economy is looking dire with weak growth and employment rates and increasing electricity woes, we were merely following a worldwide sell off in Equities.
The price of Brent crude oil has now reached nearly 7 year lows and is currently trading around the $63/barrel level.
South African economic outlook:
SA Stats will be publishing producer price figures this coming Thursday.
The FTSE/JSE Top40 closed the week 3.36% down, with the year-to-date return now at 2.21%.
Returns for Emperor's Robert Falcon Scott Strategy ("RFS") ended the week down 4.52%, with a cumulative return of 2.33% for the year.
Below is a summary of index returns and best and worst performing shares for RFS: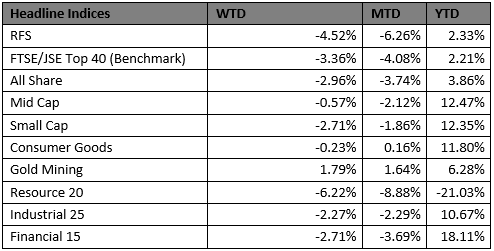 This Week:
The Following companies will be releasing their results:
Litha (Quarterly)
ArcelorMittal (Quarterly)
Ellies (Interim)
In international market news:
Most major regions ended higher with the exception of Europe.
These are represented by the different regions as follows:
Americas (S&P 500:-3.52%, Nasdaq: -2.66%)
Europe (FTSE 100: -6.56%, CAC 40: -7.03%, DAX: -4.88%)
Asia (Nikkei 225: -3.06%, Hang Seng: -3.14%)
Ruble Tumbles Past 60 Per Dollar as Traders Press Central Bank
The ruble tumbled past 60 for the first time as traders tested the Russian central bank's willingness to defend the currency amid an oil slump that is pushing the economy closer to recession.
The ruble weakened as much as 5 percent to 61.25 per dollar, leading the Bank of Russia to sell $350 million to stem the slide, according to BCS Financial Group. Three-month implied volatility for the currency, which traded 4 percent weaker at 60.5840 by 4:24 p.m., climbed to a six-year high, while the yield on 10-year government bonds rose 11 basis points to a five-year high of 13.11 percent.
Traders are pressing the Bank of Russia to buy more rubles to put a floor on a selloff that wiped out 18 percent of the currency's value this month. Policy makers failed to stop the retreat with more than $6 billion of interventions and a 100 basis-point interest-rate increase this month. Oil's slide toward $60 a barrel in London and sanctions over the conflict in Ukraine are undermining confidence in the Russian assets.
U.A.E. Sees OPEC Output Unchanged Even If Oil Drops to $40
OPEC will stand by its decision not to cut output even if oil prices fall as low as $40 a barrel and will wait at least three months before considering an emergency meeting, the United Arab Emirates' energy minister said.
OPEC won't immediately change its Nov. 27 decision to keep the group's collective output target unchanged at 30 million barrels a day, Suhail Al-Mazrouei said.
"We are not going to change our minds because the prices went to $60 or to $40," Mazrouei told Bloomberg yesterday at a conference in Dubai. "We're not targeting a price; the market will stabilize itself." He said current conditions don't justify an extraordinary OPEC meeting. "We need to wait for at least a quarter" to consider an urgent session, he said.